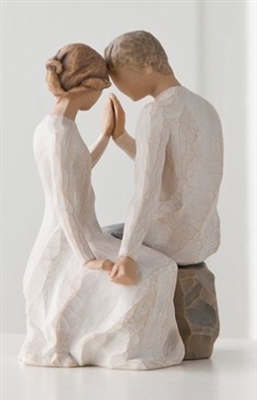 Willow Tree Figurines make a perfect, thoughtful gift for any occasion. While we have written much about the perfect holidays to gift them, they are also perfect for many occasions in general! Below are three different occasions perfect for a Willow Tree Figurine!
Baby Shower
What better way to celebrate a new life than to commemorate it with a beautiful figurine set? They are perfect for both nurseries and around the house! With each new life brought in, you can get a unique Willow Tree Figurine set to match the family! (Ps: they make great Mother's Day and Father's Day gifts as well!)
Housewarming
Getting a new home is a huge step. A beautiful way to symbolize the love and effort of turning a house into a home is with a figurine set. Whether it's the couple's first time as homeowners or a family making a move, they are sure to love a thoughtful Willow Tree Figurine.
Engagement/Wedding
Celebrating a union calls for a special, thoughtful gift. Nothing is more special than a Willow Tree figurine commemorating the happy couple. You can choose from many options, ensuring that the happy couple will see themselves in their figurines.
What's special about the above occasions is that each milestone can be added. If they start a family, for each child they have, a new figurine can be added. At K. Kannon Co., we believe in lovingly made, unique gifts for each important milestone. Our lovingly made pieces are unique, making them a fantastic gift option. The figurines have unpainted faces, which is an intentional statement by the artist. Without painted faces, the recipient can imagine themselves and their loved ones on the figurine, which is more special than a generic painted face. We also offer handmade engraved plaques and keepsake boxes to get. If you have any questions or want to place your order, please visit us online or call us at 1-800-226-1044.