Art has always played a significant role in celebrating and honoring the magic of childbirth. From portraits to sculptures, pregnancy and the relationship between mother and child, has been depicted in many beautiful and unforgettable ways.
Figurine art has made it possible for art lovers and collectors to enjoy having art in their homes. Art that is within reach for the average person. Collectors have been cherishing beautiful figurines of the female form for decades. Figurines of a woman with child, or a newborn baby cradled in a mother's arms, are among the most popular and sentimental.
One of the most powerful aspects of figurines, such as the Willow Tree Cherish Family Figurine, is the amount of emotion that is experienced through a beautifully simplistic design. The Willow Tree Cherish Family Figurine of a pregnant woman with her hands wrapped around her belly, is able to represent all cultures, as the mother appears "faceless", allowing the admirer to imagine their own faces or faces of women they personally cherish.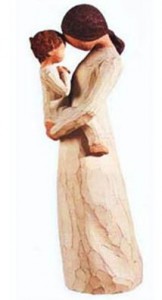 The Willow Tree Tenderness Family Figurine, celebrates the new mother or new birth. A stunning sculpture done in the same timeless, minimalist style as the "Cherish" figurine, but this time depicting a mother embracing her baby. To have both the "Cherish" figurine along with the "Tenderness" figurine is a wonderful way of experiencing through art, the beginning of the mother-child relationship.
The true celebration of family never goes out of style. And no matter how seemingly advanced we become as a culture, the human culture; we will forever be delighted and amazed at the birth of a child.