The second Sunday of every May is Mother's Day, the annual day to honor, treat and cherish the special women in your life and show them how much you care. Beyond flowers or brunch, gift-giving is usually a great way to provide a heartfelt and cherished keepsake for your mother, grandmother or other loved one to remind them how you feel throughout the year. Willow Tree figurines make a great option for the day, with many different motifs and messages to choose from.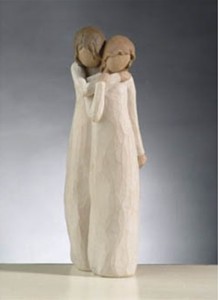 The "Chrysalis" figurine depicts a mother and teenaged or young adult daughter standing in a warm embrace, depicting how mothers are always there to provide support and love even as their children grow up and begin to leave the nest. The pair reads "Protect and cherish; give wings to fly," and truly this encapsulates that feeling of always feeling a mother's care even as your own life takes flight.
Going back further, the "Close to Me" mother and a younger version of a daughter hug one another close in another scene that evokes thoughts of separation, whether departing for a short trip or leaving for college, career or beyond. Accompanied by the message "Apart or together, always close to me," this scene brings to mind the same thoughts of constant affection, while the intermingling designs of the two dresses conveys how your lives are connected even if distance separates you both.
Bringing to mind the more innocent and carefree memories of young childhood, the "Mother Daughter" figurines are posed seated, the young daughter sitting in the mother's lap, with her arm draped across in a loving fashion.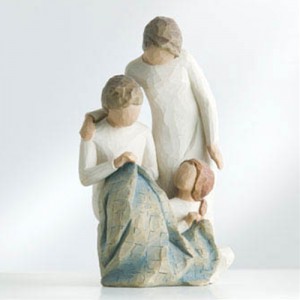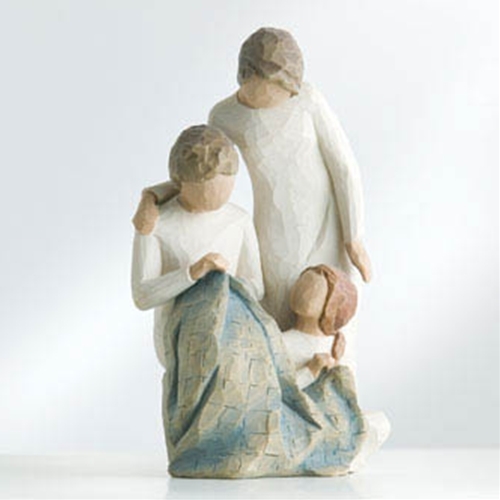 These figurines will remind your mother of the moments you shared as a child, especially with the accompanying card that reads "Laughter with love … always."
Recognizing the mothers who came before is the "Generations" figurine set, which depicts a young girl, mother and grandmother gathered together. The tender scene captures three generations of women, each sharing their love and affection for one another. "Making memories that last lifetimes" is inscribed on the figures, and this set will evoke memories of your whole extended family whenever you look at it.
Lastly, the "Grandmother" figurine captures a moment between a wee grandchild and their grandmother, tenderly holding them face to face above her lap. The scene depicted in this bonding moment channels any of the many memories shared between the generations. Reading "A unique love that transcends the years," the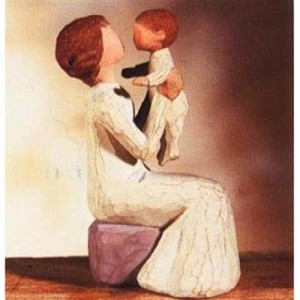 Grandmother figurine makes an excellent reminder for your cherished grandparent this Mother's Day.
Don't forget to make the day a special for your mother or grandmother by spending time to plan a relaxing and rewarding day to remember. Paired with a Willow Tree figurine, this Mother's Day will be a special occasion and yet another time to think of whenever she looks at your lasting and cherished gift.
[msh_feedburner]