Have you ever felt like you had a guardian angel looking over you? Someone who was thinking of you and wishing you the best?
That is the feeling that is instilled with Willow Tree Angels Figurines. These little gifts and keepsakes are reminders that there are people around you who care about you and are thinking of you. They are a wonderful gift to give someone in need of a pick-me-up and reminder of love.
A Tree, A Prayer
This little figurine shows an angel praying. However, the magic is in the details. If you look closely you can see that on this 5.5 inch tall figurine, the angels dress has a tree on it, with the trunk at the angel's feet. This is a beautiful symbol for strength and a sense of being rooted in your life and your current situation.
Also, the wings give a more rustic look because they are metal, instead of clay or ceramic. The simplicity of these wings makes it easy to believe that your dreams can take flight.
May you find strength, beauty and peace in each day.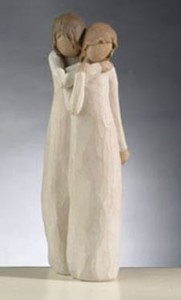 Chrysalis Family
This adorable item shows a two women hugging. This can either mean a mother and a daughter, or possibly even sisters.  The simple gesture of a hug or loving touch brings comfort to many, and so can this gift.
Having those who love and care for you nearby isn't always an option, so this is a wonderful substitute. This figurine is 9 inches tall, and would make a wonderful addition to any décor. This item is a great tool to help keep a loved one in mind, and give pause to the daily activities we all undertake.
Protect and cherish; give wings to fly.
These two figurines are even great put together, since the ideas behind them are so complimentary. Show a loved one just how much you care for them and contact us today.