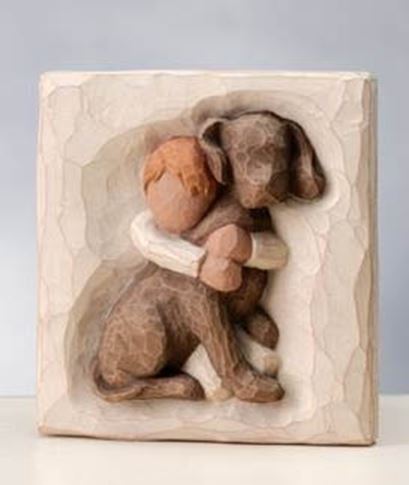 Willow Tree is typically known for its figurines, which can be found on shelves in living rooms across America. They're collectible, and indeed many people find great pleasure in acquiring the latest offerings from the venerable Willow Tree brand.
Did you know that between 2002 and 2007 Willow Tree introduced 15 poly resin plaques? They also offered two metal plaque stands during this timeframe, too. Now six of those plaques and one stand are still in production, while nine of those plaques and the other stand have been "retired." Will they be made again? No one knows. At K. Kannon, the secret is out: if you're desperate for a certain plaque or stand that's seemingly no longer available anywhere, we might be able to get it for you! Email or call us about that… For now, you can find 12 plaques conveniently listed on the website.
Willow Tree is beloved by so many people because it's a high quality brand that focuses on things people cherish– things like hope, faith and love. It's no wonder, then, that hard-to-find plaques from Willow Tree have become collector's items. Obviously, when there aren't as many pieces readily available, prices tend to "go up." That's how the collectibles market works. So, don't be surprised to find out that the more rare Willow Tree plaques cost more than those which are currently ubiquitous, since scarcity can affect the price.
Do you like to collect the "retired" ones? Do you want to add tree plaques to your personal Willow Tree collection? If so, check out our selection and contact us at 1-800-226-1044 with any questions you might have.