Valentine's Day is just a few short weeks away, which means it is time to celebrate love! Find the perfect way to capture your love and life together in a memento that you can look upon fondly each day with one of our great Willow Tree figurines.
Here are a few romantic figurines perfect for this Valentine's Day: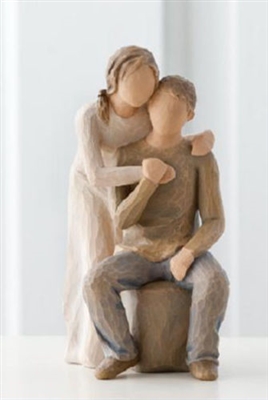 Willow Tree You and Me Figurine
Featuring a seated man and standing woman locked in an over-the-shoulder embrace, this figurine showcases one of the loving moments that can happen at any given day during your lives together. This figurine captures just one of the many simple ways that you show your love for one another, enjoying every moment that you each spend in each other's company. The included card reads "Every day, building on our love," and this figurine truly captures how even those subdued and quiet parts of your day further solidify your bonds and the depth of your feelings and your love.
Willow Tree Around You Figurine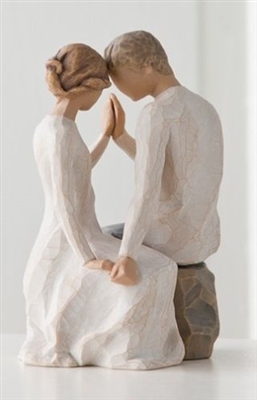 The Around You figurine depicts a happy couple seated, their faces bowed close together sharing a special moment. They sit with their hands held together, one pair held in an embrace, the others held flat up against one another as they share this time. The deep feelings of these two individuals is almost palpable from looking at this figurine, and the reading – "… just the nearness of you." – only proves all the more that even just the simplicity of being around your loved one can bring you strength and warmth, inspiration and hope, each and every day.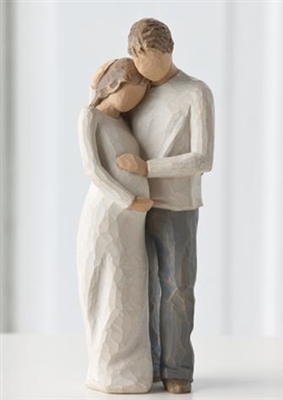 This figurine depicts a man and a woman standing together sharing a warm embrace. The happy couple both have their hands placed on the woman's growing belly. This is a great gift to give to your expecting partner to show the love and bond shared between family. The baby bump is a representation of the love shared between the couple and the growth of their love through a familial bond.
Don't forget your special someone this upcoming Valentine's Day! These figurines make excellent keepsakes to display and remind you of your special bond throughout the year, Willow Tree offers many more figurines to capture nearly any moment or feeling. Whether for a special occasion or just as an impromptu gift to yourself or a friend, check out our full selection of Willow Tree products or contact us today at 800-226-1044 for more information.