A nativity scene is one of the most recognizable symbols of the Christmas season. It is a beautiful reminder of what Christmas is really about and brings us all back to the foundation of it all, away from the materialism and greed that can sometimes show during the holiday season.
If you're looking for nativity scene basics, start with the Willow Tree Six Piece Nativity set. This timeless set offers everything needed to host the full scene of the birth of Christ. It includes Joseph, Mary holding baby Jesus, a wise man and three stable animals. The card that accompanies this figurine set reads, "Behold the awe and wonder of the Christmas Story," and this holiday set can stand alone or you can use this as a great place to start when planning your nativity scene.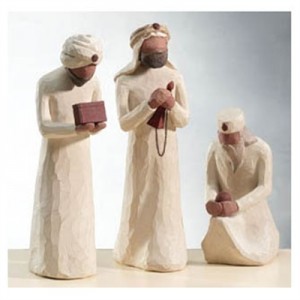 A great addition to the six-piece nativity set is the Three Wise Men. Each figurine carries the storied gifts of gold, frankincense and myrrh, staying true to the biblical tale of the three kings. They are accompanied by the reading, "They followed a star and found the Light of the World."
Use the Metal Stars Nativity as a backdrop to enhance your nativity scene even more. Create a peaceful, serene atmosphere, just as it happened that fateful night and let these stars shine above your setting. They stand 5 inches above the tallest figurine, making them the perfect addition to your display of the holy birth.
For the final touch, complete your set with the Wooden Crèche Nativity Platform. At 17 inches tall, it's a great focal point and offers enough space for all of the figurines in your display. Along with the metal stars, you can truly set the mood for your nativity scene.
With Christmas around the corner, the time has come to start planning your nativity scene. If you're interested in more additions to your festive scene, check back next week for even more great Willow Tree nativity items!