Now that you have your nativity basics, you may begin considering adding other figurines to your set. The following Willow Tree figurines are great additions to add to your existing selections to make your nativity scene even more special and unique.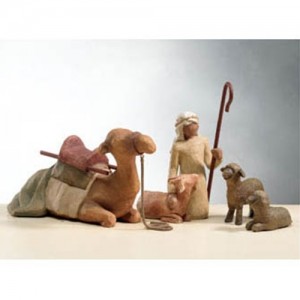 Bring your nativity display to life with the Shepherd and Stable Animals. This set includes the shepherd figurine, his camel and two sheep figures. This set is a great complement to the classic six-piece nativity set, and will bring more life to your nativity scene. If you're looking for even more stable animals to complete the setting, consider the Ox and Goat figurines. This set is another great companion to your set and will embody the strength and protection of these animals.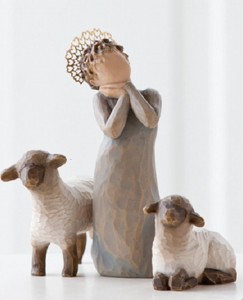 The Little Shepherdess, accompanied by two sheep, goes very well with the original Willow Tree nativity items, too. She is a great addition to the stable scene, watching with arrival of the young savior with innocence. Her size and coloring complement the other figures nicely, and she radiates love and peace as she gazes attentively and adoringly.
One of the more unique figurines is the Zampognaro. Typically found in Italian nativity scenes, the shepherd zampognaro – which means "bagpipe player" – holds his instrument while resting his other hand on a young calf. He played the calls of celebration and announcement at the birth of Christ. Bring the added touch of this celebratory musician to your nativity scene with this figurine.
Christmas season is here and the time to get your nativity display ready. Check out our full collection today, or contact K. Kannon Co. for more information or help finding the perfect figurine for your nativity scene.