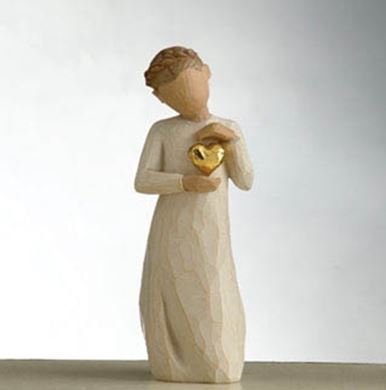 Thanksgiving is just around the corner, and it is a wonderful chance to reconnect with the important people in your life. To add to this festive warmth, we at K Kannon have several Willow Tree Angels that will help you and your loved ones celebrate the blessing of family.
When you are a child, there is a sense of magic and joy during this time of year. Remember sitting in a classroom and tracing your hand to make your very own fun turkey character? You know that in just a few days, you will get to eat good food and spend time with people who love you. The Willow Tree Celebrate Angel Figurine is a representation of this childlike feeling of anticipation.
Family is a very important aspect of Thanksgiving, as well, and as you look around the table, it is important to take in the moment. Joyous moments with family are fleeting, but when the moment is gone, you will forever have the memory. Our Willow Tree Keepsake Figurine is a reminder to "keep forever in the heart."
Thanksgiving might be the only time of year when you have all of your extended family under one roof. You see your cousin who you love to talk with, but do not normally get to see with both of your busy lives. Nieces and nephews seem to grow up so fast, and the last time you were under the same roof with them, they were much smaller. Sharing a home with the people you love is exactly the sentiment of our Willow Tree Mi Casa Figurine.
During this holiday, the kitchen is the central hub. Loved ones flow in and out as a way to pitch in, or keep the company with family members who work so hard to cook the huge feast. People catch up, eat, drink and laugh in this very important room. Keep these special moments close to your heart always with the Angel of the Kitchen Figurine.
If you would like to add a little festive spirituality to your Thanksgiving dinner as you spend time with friends and family, order your favorite Willow Tree Angel today or call us at 800-226-1044 to learn more.