Spring is in the air – or, if you live in particularly wintry parts of the country, it will be soon! What better time is there to celebrate the start of the most wonderful season than with a new spring-themed Willow Tree figurine? Here are some of our favorite Willow Tree figurines, perfect for green thumbs and spring-lovers alike.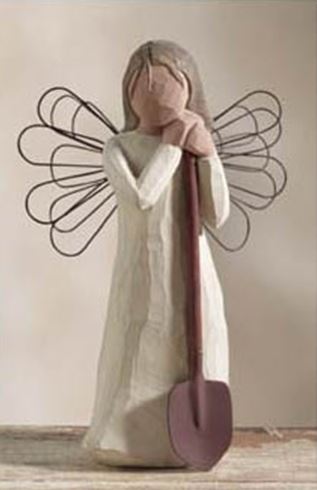 Angel of the Garden
The Willow Tree Angel of the Garden Figurine is a serene and wise-looking angel holding a garden shovel. She is at peace in the garden, and if you are, too, this figurine is perfect for you. The gift card on this angel reads, "Bringing forth a garden of love and beauty."
Something Special
The Willow Tree Something Special Figurine is an adorable little boy, holding a sprouted plant and kneeling on a tree stump. This figurine is perfect for celebrating the wonder of children, and would make a perfect gift for a mama who loves to garden. The gift card on this figurine reads, "You make the world a better place."
Lavender Grace
The Lavender Grace Figurine is a young lady holding two bundles of dark lavender blooms in her hands. Lavender is known for its relaxing properties, and it smells as beautiful as it looks. The gift card on this figurine reads, "May all your senses be filled with healing grace."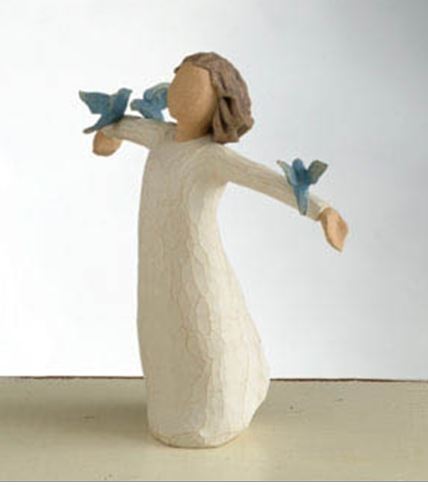 Happiness Angel

Another figure perfect for celebrating springtime joy is the Willow Tree Happiness Angel Figurine.It shows a young woman standing freely with three blue birds perched on her outstretched arms, as if she may fly away too at any moment. This figurine celebrates freedom and the possibilities that come with a new spring season. The gift card reads, "Free to sing, laugh, dance … create."
Simple Joys
Speaking of joy, the Willow Tree Simple Joys Figurine is a woman who is holding a bunch of loose purple flowers in her apron. The pop of color on this angel is a gorgeous addition to any décor, and perfect for celebrating the new colors of spring. The gift card reads, "You're simply a joy in my life."
Order the next Willow Tree figurine for your collection today from K Kannon, or call us today at 800-226-1044 if you have any questions about our products or to place your order!