Each year on Sept. 21, the world celebrates the International Day of Peace. This annual event was started by the United Nations in 1982 and is meant to promote peace and dignity for everyone around the world. Angels are often seen as peaceful and compassionate and are a great way to think about keeping and achieving peace in your own life.
In recognition of that, here are four angelic figurines to help you find this balance throughout the rest of the year: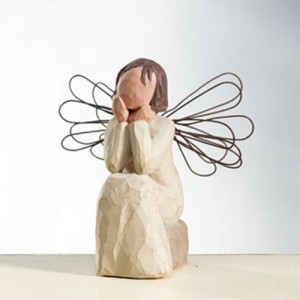 This seated angel rests with her head in her hands, reflectively posed as though thinking deeply on a serious topic. The included card reads "Always there, listening with a willing ear and an open heart" – a message that the U.N. International Day of Peace shares, in hopes that people of the world heed the call for world peace. Whether as a sight to give you pause to think about the important cares in your life or as a gift for a friend, the Angel of Caring is a great Willow Tree figure.
Each of us hopes for something each day, whether it's for something personal like a bonus at work or peace on earth. The Angel of Hope embodies these feelings, holding in its hands a small candle, perhaps representing your burning hopes. The angel protects the candle to keep it burning, accompanied by the reading "Each day, hope anew." Whether world peace or your own hopes, this angel will remind you of your constant drive to make those hopes come true.
Caring about the well-being of family, friends, neighbors and even those around the world is something that each of us can relate with. The Angel of Healing embodies that, holding in her hands a small bird – the symbol of the International Day of Peace – and caring for it tenderly. The note attached to this angel reads ""For those who give comfort with caring and tenderness."
Just like Rocky in his eponymous series of movies, the Angel of Courage stands with arms raised and standing on her toes in a victorious stance. The angel looks triumphant over whatever task had long plagued her, and the exuberant stance is sure to give you the courage you need in your daily life. The note accompanying this angel reads "Bringing a triumphant spirit, inspiration, and courage," and with her on display at your home or on your desk, you can look to her for reinforcement, whether to give you the courage to stand up for a cause you believe in or to make it until the clock strikes 5.
Whether in recognition of the International Day of Peace or as a gift any day, Willow Tree figurines make great keepsakes for you, your friends or anyone else in your life. Check out our full selection online, or contact us today at 800-226-1044 for more information on any of our great figures.
Holding a bouquet of flowers, this figurine.