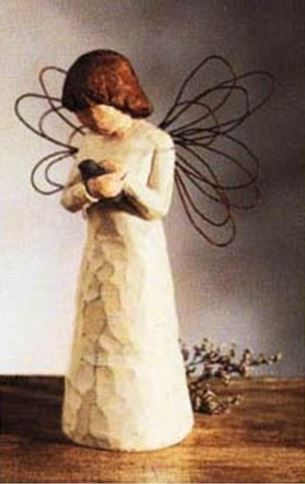 If you've ever visited a friend or family member's home and saw a faceless angel figure with wire-loop wings on a shelf or table, proudly displayed as a decorative figure, then you've most likely seen a Willow Tree figurine sculpture. Originally created by artist Susan Lordi at the turn of this century (between 1999 and 2000), Willow Tree designs feature rustic faceless people and angels which are intended to represent feelings or life events. They're often given as gifts to people on special occasions like wedding anniversaries, new baby arrivals, and birthdays.
Made from hand-painted resin and cast from hand-carved clay sculptures, Willow Tree figurines are often found in gift shops, Hallmark stores, and online via shops like K. Kannon.
To understand Willow Tree figurines, it's best to have an idea about where their creator, Susan Lordi, is coming from… at her Kansas City art studio, she uses an intuitive process. First, she uses clay that's shaped into forms and then carved to make a figure or shape representing something bigger than itself. Lordi believes in stripping down the essence of emotion to pure form while allowing the receiver of her creations to then interpret them as they want to. This is art that truly connects with people.
Where does Lordi get some of her inspiration from? Generally, for new ideas, she'll take time outdoors to observe plants, birds, and insects. She looks for surprises in nature that both inspire her and comfort her. This organic approach to creating figurines and other works of art has helped Willow Tree make a name for itself over the past two decades. Willow Tree's 'keywords' would include healing, comfort, protection and inspiration.
Utilizing simple gestures in her figurines, like the way a head is tilted, where hands are placed, or how a body is turned, Lordi is able to give personality and meaning to each Willow Tree figurine. This simplicity, coupled with a lack of facial features, truly distinguishes Willow Tree items in the marketplace.
Take a look around the K. Kannon website to see the various Willow Tree angel figurines, as well as plaques and nativity figures. Collectors love these items, and they make great gifts for loved ones. Did you know each figurine is available in its individual, custom package, complete with its own unique message to add your personal touch? With shipping to anywhere in the United States, K. Kannon can help you choose and then send the perfect Willow Tree gift to someone special this year. Please call 1-800-226-1044 if you have any questions.