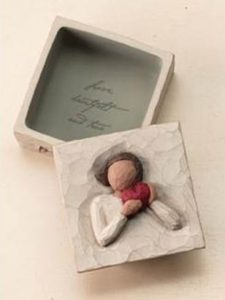 Most people think about going back to school as a September event, but college-aged students will be heading back to campus a little sooner. Most have only a few weeks left, at most, before it's time to pack up their belongings and head back to a dorm room or small apartment.
Moving into these small spaces can be tough on students, especially since there aren't many places to store their most cherished items. That's where our Willow Tree Keepsake Boxes can come in handy.
In addition to the usefulness of these small boxes – they're perfect size to store precious jewelry, pins and other small items – the detailed ornamentation on each cover makes every box a meaningful gift for the student in your life.
The Willow Tree From the Heart Keepsake Box is a perfect way to show any student that you care. The heart held by the figurine on this box represents how this gift can keep their sentimental items safe and close to the heart. This would be a great for a grandparent, aunt or uncle to give to the young college-bound person in their life.
What about a box for a parent whose child is going back to college? The Willow Tree Embrace Keepsake Box will remind your son or daughter that your love is always with them, and can strengthen your relationship even while you're apart.
Students who are homesick for their beloved pets will appreciate the Willow Tree Comfort Keepsake and the Willow Tree True Keepsake boxes – which show how calming animal embraces can be. With these boxes, your student can remember their cherished pets that may have passed (the box is the perfect size for a dog or cat ID tag) or their furry friend that is waiting to greet them when they arrive home on breaks or weekends.
These keepsake boxes also work well to show your best friend that no amount of distance during college can keep you apart. The Willow Tree Friendship Keepsake Box is the ideal place to keep mementos that symbolize your bond until the next time you see each other!
Finally, it can be especially difficult for moms to say goodbye to their kids as they leave for college. For a meaningful and heartfelt gift to a daughter leaving the nest, the Willow Tree Mother & Daughter Keepsake Box is the perfect choice. Your daughter will cherish this special connection with you whenever she's feeling lonely, and it's the perfect place for her to keep any special jewelry you may have given her.
College can feel lonely at first, and anything that reminds a young student of home can really help them through this transitional period. That's what these keepsake boxes are – little bits of home, and little bits of you! To learn more about any of the Willow Tree keepsake boxes or to place your order, call K Kannon today at 800-226-1044.